Twin Helix Infinity
Twin Helix is located the north of the Melaka Gateway, Malaysia. Along the historical axis connecting the International Cruise Terminal to Malacca, it positions as an iconic pioneer, spearheading the future development of entire Melaka Gateway.
Twin Helix considered to be a redefine of architectural proposition of the tower prototype. The aim is to integrate sustainability, smart technology and ecological functions into a unique community atmosphere to work together and live together. This will lead to leisure, pleasure, wellness and imagination, and ultimately satisfaction.
Twin Helix building will be constructed using high-quality green index building materials, and every design of its smart home is equipped with advanced IT technology and an "Internet of Things" system.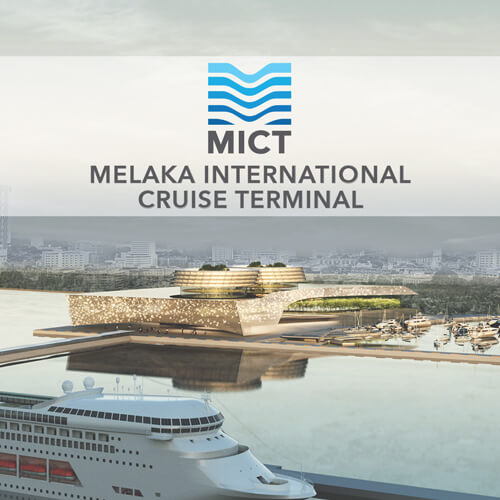 MICT
Melaka International Cruise Terminal (MICT) is a new international cruise port which is located at Melaka Gateway, Malaysia. The establishment of MICT has attracted foreign investors such as Royal Caribbean International to work together, and its emergence is anticipated to increase the state's revenue. MICT is expected to be completed by 2022.
Surrounding areas of MICT has been strategically planned for cultural diversity, lifestyle & activities. The port is located in the central business district (CBD) area and is within walking distance of Melaka's UNESCO World Historical and Heritage sites.
Melaka Gateway
Melaka Gateway is a premier mixed development project initiated by KAJ Development Sdn. Bhd. (KAJD). Which comprise of three reclaimed and one natural island totaling 1,366 acres, set in a strategic and idyllic area of Straits of Malacca, Malaysia. Ideally located between the main hub of Kuala Lumpur and Singapore, as well as within the vibrancy of the Melaka city's commercial centre, this project will catapult this heritage city as a world-class integrated investment, tourism and commercial development icon.
e-JEJAK
e-JEJAK is an application developed with a QR code scanning solution to help business owners and Malaysian citizens to comply with the Standard Operating Procedures (SOP) recommended by Medical Officer of Health (MOH) and Ministry of International Trade and Industry (MITI) during the Coronavirus Disease (COVID-19) pandemic. With the e-JEJAK application, Malaysians can easily check in by scanning the QR code, and indirectly leave their travel history records online behind. Business owners can also view the information and body temperature once visitors scan the QR code at their premises.
Phoenix Star
Phoenix Star is an online and offline training company set up to find Key Opinion Leader (KOL), Streamer and Artist in the current era. Phoenix Star is professionally developed based on a complete Standard Operation Procedure (SOP) and is able to make these young talents known by polishing their potential and strengths. Phoenix Star exists to promote the economy of traditional artists in line with the world of new technologies, and to help them continue to pursue their dreams.
Phoenix Star has a variety of subsidiaries from different industries, bringing together experienced and professional tutors under one roof who are able to help and train young talents to shape their personality and channel their potential on the right platform.